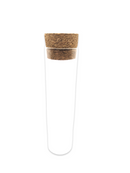 Description
Add life to your pre-rolls with these high end Borosilicate Glass Pre-Roll Tubes with cork caps. Perfect for stashing your pre-rolled cones.
The 5"-tall wide doob tube easily accommodates pre-rolls of varying sizes. They're perfect for the dispensary, allowing for pristine yet natural presentation of finely rolled herbal joints.
The cork cap conveniently and securely slides in and out to keep in the freshness of the product for longevity while adding a quaint, modern touch to your dispensary presentation.
Wholesale glass pre-roll tubes available.
Length: 115mm
Diameter: 30mm
Wide
Cork cap
Perfect for cannagars, blunts and multiple pre-rolled cones
Modern presentation