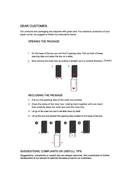 Description
Made with Organic Hemp | Vegan Friendly Product | Non-GMO | Total Chlorine Free | Chalk Free | Pesticide Free | Naturally unbleached & unrefined | No additives | Patented watermark for more even burn | Acacia gumline

Artisan crafted pre-rolled cones. Made and hand rolled in Indonesia. EVOLV Organic papers contain a hybrid blend of non-chlorinated fibers and are finished with a organic hemp gumline to match the burn rate of the rolling paper.

Each paper is watermarked with a proprietary watermark which helps prevent runs and maintains the smoothest burn.

EVOLV Organic papers contain no chalk, dyes, chlorine, or burn additives, and are a vegan friendly product.

Size: 84mm w/ 26mm TIP

This product & package is a environmentally sustainable product containing 900 EVOLV Organic 1 1/4 cones.

Now offered in two different tip types. One with the premium EVOLV logo and one without the logo, a blank tip. It's the same great EVOLV quality but no logo on the tip. Great for retail use.
 Website: www.evolv.supply